Help Us Bring Curiosity to the World
G4G "gathers" together the most brilliant and inquisitive minds in recreational mathematics, magic and illusion, puzzles and games, skepticism, science, literature, and especially the intersections of these subjects. Our events create opportunities to share ideas and make new connections. From our incredible community comes an outpouring of insightful papers, creative activities, clever objects, and intriguing presentations, which we strive to share with the world through our websites and social media.
G4G is financially supported by our community; people like you who want to share Martin Gardner's legacy of curiosity with the world. Please consider making a donation today!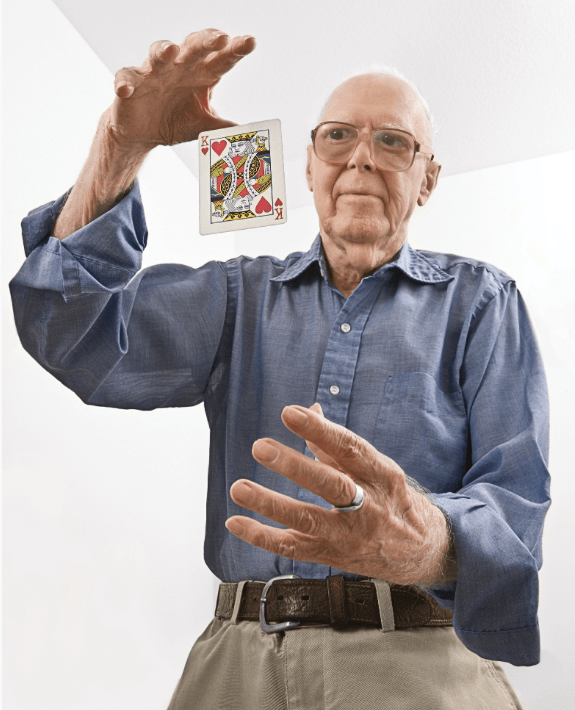 Donate Online
We use PayPal to process donations online. However, you don't need a PayPal account to donate, you can also use a credit or debit card (PayPal processes the transaction for us). To make a donation, click the button below:
Donor Levels
LEGACY Circle = 

$25,000+ 

Consider donating $34,912 for the number of days Martin lived. PLEASE MAKE LEGACY DONATIONS BY CHECK (see below)

Polymath Circle = 

$8,000+

Consider donating $8,128. The perfect donation at the perfect number.

Mathematicians Circle =

$3,000+

Consider donating $3,121 for a top solution to Martin's favorite math problem—The Monkeys and the Coconuts.

Puzzlers Circle =

$1,000+

Consider donating $1,001. Martin was fond of 1001 as its factorization 7 x 11 x 13 lies behind a famous trick about numbers of the form ABCABC.

Magicians Circle =

$500+

Consider donating $574 for the number of pages in Martin's classic book, Encyclopedia of Impromptu Magic.

Writers Circle =

$100+

Consider donating $103 for the number of books written by Martin.

Skeptics Circle =

$50+

Consider donating $57 for Martin's pioneering book on the skeptical movement, Fads and Fallacies (1957).
Donate Stock
Another way to support G4G is with a stock donation. Click the button below to setup a stock donation.
Tax Deductions
Gathering 4 Gardner, Inc. (the G4G Foundation) is a 501(c)(3) tax-exempt corporation based in Atlanta, Georgia. Financial contributions are tax-deductible as allowed by law. Our EIN is 20-8758549.
Donate By Check
For donations over $10K, we would prefer that you send us a check and let us know so we can be sure it arrives. Gifts of $25K and up are considered LEGACY donations.
Please make donation checks out to "Gathering 4 Gardner, Inc." and include the words "G4G Donation" in the memo. You can mail donation checks to:
Gathering 4 Gardner, Inc.
2885 Sanford Ave SW #39552
Grandville, MI 49418
*Gathering 4 Gardner is based in Atlanta, Georgia. The above listed Michigan address is a service we use for receiving mail, since our team is located all around the country. Thanks!
What Can Your Donation Do?
Provide scholarships for underrepresented groups (youth, women, and minorities) to attend our Gathering conference.
Create a video documentation of the conference that we can share with the world through our website.
Publish books of the collected gift exchange papers from each conference, which will then be offered free for download on our website.
Throw a "thank you" luncheon at our biennial conference to show appreciation for our volunteers and big donors.
Support working magicians and illusionists to perform at our biennial
conference and community event.
Help us bring a part of the G4G14 conference to Decatur, a local Atlanta community, where we can interact with the adults on the street and kids at a local arts camp.
Provide welcome packages with event banners, invitations and posters for hosts who bring G4G materials to their local communities with Celebration of Mind events.
Become a G4G Volunteer!
Financial contributions are always appreciated, but volunteering is another great way to help out  while supporting a great cause! To learn more about G4G Foundation volunteer opportunities, click the button below: